Saturday, 15 September 2007 17:02
Mr. President, I offer you a toast.
May you have a long life; may your mind remain lucid.
May you live to see the nation and history repudiate everything you have done and everything you stand for.
My you live to understand how you perverted your oath to preserve, protect, and defend the Constitution of the United States.
May you live to perceive how you polluted the words "freedom" and "democracy" and so dishonored the United States and its citizens that we are ashamed to say "We are Americans".
May you live to comprehend that you cheapened religion, morality, and ethics by turning them into political tools of expediency rather than reflections of our highest aspirations.
May you live to feel shame for what you have done.
Tuesday, 04 September 2007 18:32
I've been rather busy of late; I've been writing a lot of code in pursuit of my long developing ideas about self-healing networks and network troubleshooting (these may seem disjoint, but they are two ends of a spectrum.)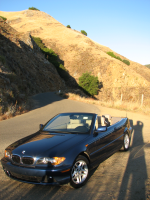 I needed a break, so this last weekend I fired up Doda, dropped her top, and headed south for a trip over the Santa Lucia mountains, from King City to Big Sur via the Nacimiento-Ferguson Road.
The trip encompassed landscapes covered by two of California's greatest writers - Wallace Stegner and John Steinbeck. (All married people ought to read Stegner's Angle of Repose and Crossing To Safety.)